Leveraging loyalty, leveraging creativity
Reliability, thermal efficiency, competitiveness, new market outlets... the GTT innovation policy successfully responds to the many expectations of the LNG industry and shipping operators.
Innovation is the very essence of GTT. It underpins the trust its customers place in the quality of its technologies, and demonstrates its ability to support them in developing their own businesses. As an expert in membrane containment systems, the company is committed to responding effectively to the technical and operational expectations of shipyards, shipowners, EPC service providers, terminal operators and LNG industry leaders. To achieve that aim, a quarter of all GTT employees work in research and development. This R&D program has a demanding ambition: to ensure that GTT technologies retain and extend their competitive edge in its historic market of LNG transportation, and to create new applications that contribute to the rapid expansion of new markets.
THE FOUR INNOVATION PRIORITIES
Because any serious accident - whether human or environmental - is unthinkable, GTT must demonstrate that its systems remain operational regardless of conditions. Such challenges drive the company to continually challenge and push back its limits; that level of commitment is clear in the recent success enjoyed by the company in the ice-breaking LNG carrier segment. These vessels demonstrate the ability of GTT technologies to overcome the extreme conditions of vessel operation in Arctic waters.
The purpose of the technologies designed by GTT is to transport gas securely and limit losses in transit. That's why the company's research efforts are focused on reducing vessel operating cost, at the same time as reducing the LNG boil-off rate. This area of research represents around half of the company's entire R&D commitment, and focuses particularly on materials.
Like any technological-leading company, GTT must compete head-to-head with competitor systems and protect the competitiveness of its own processes. To ensure that it responds as effectively as possible to the expectations of its shipyard customers, the company focuses its R&D efforts on the use of less costly materials and the simplification of assembly methods.
The GTT R&D program also aims to develop existing technologies in response to the needs of new industry sectors, such as bunkering and LNG distribution using small and midsize carriers.
GTT is committed to ensuring that its technologies deliver an effective response to the technical, operational, financial, industrial and logistics constraints of its customers. The relationship that unites the company with its customers is firmly founded on local presence and transparency, especially in the test and trial phases. Particular importance is also paid to the quality of testing systems, the uncompromising selection of engineers, and the selection of industrial and research partners.
GTT and its partners

As an intrinsically pioneering business, GTT sets no artificial limits when it comes to innovation. If its own in-house facilities are not sufficient, its R&D teams involve external partners to conduct the test phase under ideal conditions in terms of test pieces, protocols, test periods, etc. UTAC and Valutec are two of GTT's regular partners in this area of its business. In the specialist area of industrial development, a series of partnerships with external companies contribute to the process of developing new materials. 
Key figures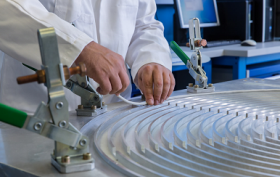 - 113 engineers (representing a quarter of the workforce)

- First in the INPI's list of medium-sized companies (ETI) patent applicants in 2019 and 2020

- 59 patents published in 2020

- R&D budget : 10% of GTT turnover in 2020