LNG as marine fuel
GTT is continuously adapting its technologies to meet the latest regulations and requirements of ship-owners willing to use a LNG propulsion system.
The liquefied gas at the heart of the marine transition
With the Global Sulphur Cap 2020, the latest regulation adopted by the International Maritime Organization (IMO), merchant vessels' owners have to comply with new Sulphur oxide emissions of not more than 0.5% worldwide since January 1st 2020, against 3.5% previously.

Compared to Heavy Fuel Oil (HFO), the use of LNG allows substantial reductions of more than 99% of Sulphur emissions, 80% for nitrogen oxides, most particulate matters, and also up to 20% for carbon dioxide. LNG is thus considered as the greenest fossil energy, and a real technological breakthrough to reach compliance and maintain competitiveness at the same time.
GTT technologies available for a wide range of shipping segments and LNG volumes
LNG as fuel is available for all shipping segments. GTT membrane technology can equip commercial vessels such as container ships, tankers, bulkers, car carriers, cruise vessels, etc…
Membrane tank volumes can vary from 1,000 m3 for passenger ships, to 10,000 m3 for tankers, and close to 20 000 m3 for very large container vessels.
The increasing demand for LNG as a fuel goes hand in hand with a developing supply chain.
GTT is also offering solutions for all kinds of infrastructure:
Bunker barges and vessels used to bunker ships in every kind of navigational areas (inland waters, coastal, seagoing, shallow draft, etc.);
Small and medium-capacity LNG carriers used as refueling vessels (used for LNG ship-to-ship transfers) and suitable for inland waterways and coastal zones;
Semi-submerged storage structures and bunkering stations placed on the seabed (Gravity Based System - GBS).
 

Specificities and advantages of membrane tank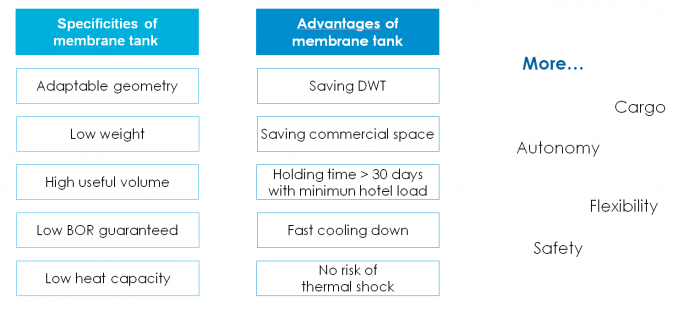 GTT support to ship-owners
To facilitate the adoption of LNG as a marine fuel for the shipping industry, GTT has developed an extensive range of services to provide assistance all along the vessel life. Originally developed for LNG shipping, these services have been adapted and enhanced to help ship-owners to step into the "LNG as fuel" journey.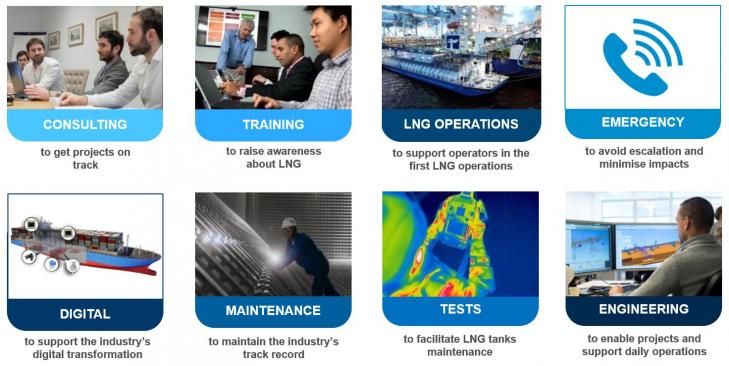 Consulting
Based on GTT's engineering, operational skills and experience in LNG as fuel projects, ship-owners can benefit from advice through consulting services to make the transition to LNG smooth. Whether it concerns the tank itself or the Fuel Gas Handling System (FGHS), the GTT experts will provide the right assistance to answer your expectations.
Pre-project

Project and construction

Technical & functional specifications
Boil-off rate
Pressure rise and holding time
Process flow diagram
Equipment and suppliers list
Bunkering simulation
Assistance during tender phase (review of yard technical proposals)

Basic design of process 
Basic design of piping
HAZID/HAZOP
Assistance during tender phase of equipment
Gas system supplier documents review
Factory Acceptance Tests (FATs)
Training
Training
GTT Training, a GTT subsidiary, offers the LNG industry a catalogue of training courses adapted to LNG as a marine fuel. The subsidiary also offers G-Sim, an LNG and liquefied gas operations simulator used for training officers of both LNG-propelled vessels and LNG Carriers.
To get more information, please consult www.gtt-training.co.uk.
LNG operations
GTT provides technical assistance (office, on-site, management of operations) to first LNG operations like trials (pre-commissioning + cold tests + gas trials), commissioning / decommissioning operations, first loading/bunkering operations. It concerns all units carrying LNG: LNG as fuel (LNG bunker vessels, LNG-fuelled vessels) and large scale LNG (LNGC, FSU, FSRU, FLNG, onshore tanks, GBS).
Emergency Response
GTT's emergency response service, named HEARS® is a 24/7 technical assistance managed by experts trained for emergency situations in order to avoid escalation and minimise impact of an incident. Most common emergency situations are covered, based on return of experience on LNG fleet (Gas leakage, water ingress in LNG tank insulated spaces, LNG spillage on deck, emergency departure from terminal, prolonged loss of nitrogen production, prolonged loss of cofferdam heating).
Emergency Preparedness Programm is also organised with enrolled vessels to increase reactivity and efficiency (joint drill with clients, crisis management for crews and onshore personnel, review of client's emergency procedures …)
Digital Services
Advanced digital solutions can make the transition to LNG as a fuel easier for many clients. GTT system performance depends not only on the design but also on the way the vessel is operated. Given the system specifications, decision-making software help increase the performance, reduce the risks, optimize the operations and automate reporting.
To get more information, please consult our subsidiaries websites: www.ascenz.com and www.marorka.com
Maintenance
GTT provides on-site technical support for inspection, maintenance and repair of its tanks thanks to a worldwide network of approved repair yards, trained and qualified by GTT.
Tests
Cryovision®, a GTT subsidiary, provides membrane test services, such as a Thermal Assessment of Membrane Integrity (TAMITM).
To get more information, please consult www.cryovision.com
Engineering
GTT can provide studies on highly specialised technical issues related to operations at sea, aiming to increase ships operational flexibility, improve performance and manage operational risks.