NO96 system
NO96 technology is a cryogenic liner used to contain liquefied gas at low temperatures during shipping, onshore and offshore storage, at atmospheric pressure. This technology and its evolutions equip more than 200 vessels in operation and under construction and take advantages of more than 50 years at sea.
The concept
The primary and secondary membranes are made of Invar®, a 36% nickel-steel alloy, 0.7mm thick. The primary membrane contains the LNG cargo, while the secondary membrane, identical to the primary, ensures a 100% redundancy in case of leakage. Each of the 500mm wide Invar® strakes is continuously spread along the tank walls and is evenly supported by the primary and the secondary insulation layers.
NO96 concept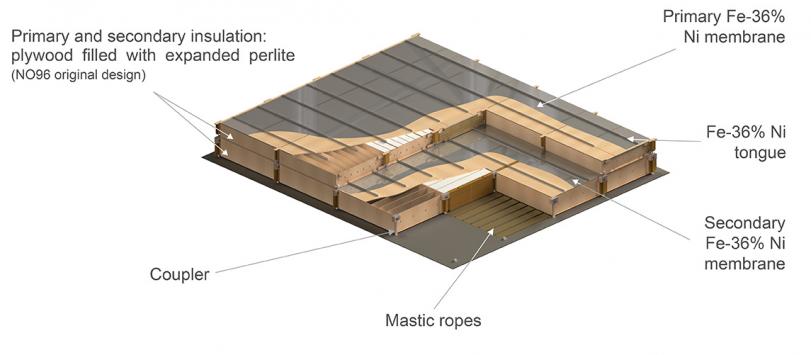 NO96 evolutions: improving the thermomechanical efficiency of the system
GTT's technologies are continually being optimised to meet the requirements of ship-owners and shipyards, while also complying with regulatory changes affecting the sector.
The perlite has been replaced by foam in NO96 L03 or by glass-wool in NO96 GW evolution. A set of reinforced boxes have also been developed in order to meet requirements for systems sustaining higher loads.
 

NO96 Perlite

NO96 GW

NO96 L03

NO96 L03+

BOR*
(170K m3 vessel)

0.15%

0.125%

0.11%

0.10%

Main insulating material

Perlite

Glass-wool

Glass-wool and foam 130 kg/m3

Membranes

Invar® 0.7 mm

Support

Boxes with bulkheads: plywood

Boxes primary and top secondary with  bulkheads: plywood

Panels lower secondary: foam & plywood

Boxes with bulkheads: plywood

Panels: foam & plywood

Thickness

530 mm (primary box: 230 mm + secondary box: 300 mm)
* BOR is project dependent due to vessel size, tank arrangement and reinforcements.