Recently introduced by GTT and ABS, the notation "LNG Cargo Ready[1]" supports the development of Very Large Ethane/LPG Carriers (VLEC) and Ultra Large Ethane/LNG Carriers (ULEC), the preferred capacities for the actual growing Ethane trade from USA to Europe, India and China. Through this notation and associated record comments, (see Table 1) the vessel's main components can be certified as fully compliant or compliant with minor retrofit for LNG service.
Going bigger in an emerging ethane market comes with associated uncertainties, therefore, the option of having the ethane carriers being capable of transporting LNG, with or without retrofit, becomes very attractive, providing the possibility of a second life in a diversifying LNG market. An Ethane carrier, which can be beforehand adapted to handle LNG, presents itself as a significant advantage within a growing and diversifying small – mid scale LNG market giving ship-owners the possibility of making the most of the freight market as it evolves.
ABS records confirm that such a supplementary notation can contribute positively to a vessel valorisation in the sales and purchase market. 
Operations not only as mid-size LNG Carrier, but also as Floating Storage (FSU) or even Floating Storage and Regasification (FSRU) units can be envisaged.
| | |
| --- | --- |
| System | Descriptive Letters  |
| Cargo Containment | CC* |
| Cargo Piping | CP |
| Cargo Pump | PP |
| Cargo Gas Compressor | CO |
| Re-liquefaction System | RS |
| Gas Combustion Unit | GC |
| Fuel Gas Supply | FG |
| Dual Fuel Engine | DF |
Table 1 -  LNG Cargo Ready Systems Groups and Descriptive letters. Cargo Containment letter is mandatory for the vessel to receive "LNG Cargo Ready" notation.
The new established notation, announced at GASTECH 2019, is now applied to SERI EVEREST, the very first[2] vessel of the second generation and world's largest VLEC delivered to MISC in November 2020 and identified as one of the "Great Ships of 2020" by the Maritime Reporter[3]. At the origin of the notation, GTT has assisted exchanges with ship-owners, shipyard and equipment makers with the objective of assuring the vessel to be granted a maximum of possible of descriptive letters. SERI EVEREST shall receive the following notation: CC, PP, FG and DF. As the owners of the second generation of VLECs push to acquire higher notation, more shipping actors move on the compliance direction.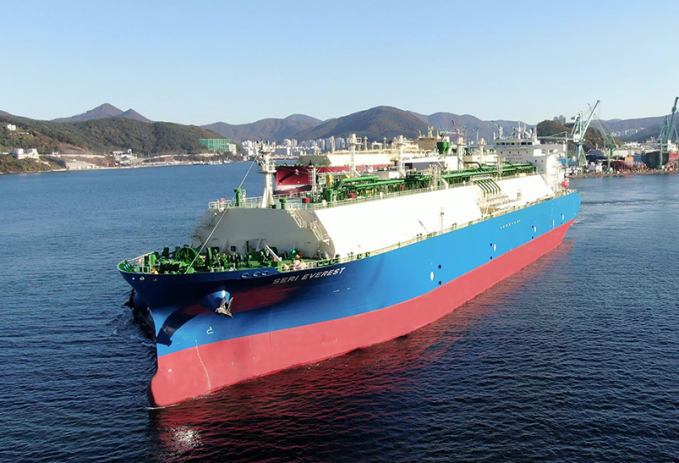 Figure 1 - SERI EVEREST the largest VLEC to be granted ABS notations "LNG Cargo Ready" (Courtesy of MISC).
In order to benefit from the notation and its implications on the shipping market, necessary measures should be made at early project stage, assuring compliance at a marginal cost.
For acquiring the notation, the Cargo Containment (CC) record comment is mandatory. GTT's membrane containment systems are already multigas ready. The compliance with ethane and other liquefied gases came with technical developments, initiated in the context of Floating LNG vessels (FLNG) fitted with LPG storage tanks, this has been optimized through first and second membrane VLECs generations and most recently with the design of a Gravity-based Structure (GBS) for Ethane storage. The technical innovations include the optimization of the gas detection and sweeping system for membrane insulation spaces to take into account greater density of ethane when compared to nitrogen. Membrane materials were proven through experimental tests to ensure chemical compatibility and performance stability. Immersion campaigns with specimens of the various membrane components were performed in a dedicated setup; and then validated with mechanical or thermal performance analyses. The increased liquid cargo density in multigas applications also leads to greater sloshing loads. On top of that, as bubble point temperature is usually greater, the strength of the containment system decreases. GTT overcame such technical challenges by validating optimized foam densities and applying specific reinforcements. Increasing membrane strength without impairing boil-off ratio is the challenge.

Figure 2 - The technical developments to achieve multigas compliance includes material compatibility immersion tests and detailed analysis on CCS strengths under different cargo densities and temperatures. (On the left: material testing set image Courtesy of TNO. On the right: GTT's Hexapod, part of the sloshing assessment infrastructure)
Concerning cargo handling, the pump tower, the liquid dome and guiding system used on GTT membrane tanks with submerged pumps are readily applicable for Ethane and LNG. Moreover, GTT has recently developed a pump tower design capable of accommodating the largest deepwell cargo pumps on the market. Deepwell pumps are well known in the LPG sector and are certified LNG ready.
The exact implications of the notation and its real value will be proved in the coming years, through the second and third (two hulls to be constructed by HHI)[4] generations of VLECs and possibly the very first ULEC. In the meantime, GTT continues to anticipate and to provide support for the shipping market segments willing to acquire this innovative notation, bringing value and flexibility to all players.
---