GTT Inside, the GTT newsletter
GTT Inside #25 - July, 2022

Message from Karim CHAPOT, VP Technical Division of GTT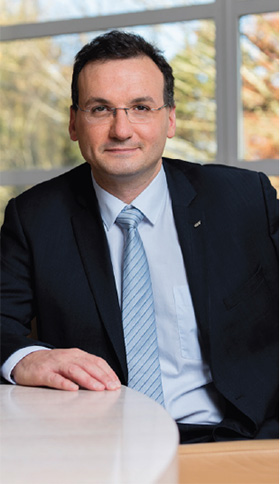 I am pleased to be able to introduce the latest GTT inside with news on our more recent developments.
In this edition, GTT is presenting a new concept of LNG Carrier with three tanks. This evolution provides an improved guaranteed Boil Off Rate and a simplification of the construction process to further contribute to reductions in emissions. This evolution is possible thanks to recent research and development work, which relies strongly on data from ships in operation. With the development of digital solutions and the collection of information from hundreds of vessels, the design margins can be further fine-tuned and innovation thereby facilitated. On each special survey, ships are scrutinized and slight corrections are made when deemed necessary in order to maintain the outstanding LNGC industry track record. Accordingly, we explain how we monitor the position of the pumps at each special survey to keep the tank in normal operational conditions. The latest developments of GTT Next1 are also described with the construction of a large mock-up in France. Finally, the LNG as fuel team has introduced the development of Blocks with the membrane being fully prefabricated before installation in the vessel. This new way of building tanks has been applied successfully on container ships and is efficient for ship retrofit to LNG. This increased level of prefabrication will simplify LNGC shipbuilding and will certainly change the way ships can be built in the future.

Please enjoy this edition and I take this opportunity of wishing you an enjoyable Summer!
TECHNOLOGIES
Increased safety of LNG tank operations: control of the distance between cargo pumps and the Mark III primary membrane. 
Cargo pumps are positioned in the lower section of pump towers installed in the cargo tanks for unloading liquefied gas. As far as the operation of LNG cargo tanks is concerned, the position of cargo pumps has been designed to perform the following main functions:
To optimize the duration of operations and maximize pumped volumes before switching to stripping operations.  
 To provide for displacement of the pump tower due to inertia and particularly due to thermal expansion while the tank is warming up without inducing contact between pumps and the primary membrane. 
For Mark III Tanks, the historical distance, defined between the flat part of the membrane and the lower part of the cargo pump, is 100 ± 5 mm...
INNOVATION
GTT Next1: the latest development in GTT's technologies
GTT has received an Approval in Principle (AiP) from the classification society Lloyd's Register EMEA, for its future Cargo Containment System applicable to LNG carriers, "GTT NEXT1".
GTT NEXT1 technology is the latest development under GTT's program of continuous innovation. It is made up of two independent metallic membranes, both supported by a layer of insulating foam material...
Objective: to improve the overall performance of LNG Carriers while reducing construction cost.
One of our missions at GTT is to conceive cutting-edge technological solutions for an improved energy efficiency. Over the last decades, GTT has made continuous efforts to improve its containment systems focusing on two areas in order to meet our clients' expectations:
Improvement of the thermal performance which has enabled GTT to divide by more than 2 the daily guaranteed LNG Boil Off Rate,  
Improvement of containment system capability to sustain higher dynamic loads. 
At the same time, in-house studies and research have allowed us to consider all partial fillings in tanks, which are currently requirements for the application of our containment systems in the offshore and the LNG as a fuel market (fuel tanks for commercial vessels)...
LNG AS A FUEL
LNG Retrofit & Jumboïsation
The International Maritime Organization (IMO) has set new targets to reduce CO2 emissions (from transport): a decrease of 40% by 2030 and 70% by 2050, compared to 2008 levels. Annual greenhouse gas (GHG) emissions from international shipping are also regulated, stipulating a reduction of 50% by 2050. Two associated IMO indices - EEXI and CII - have been established to provide ship-owners with a benchmark to reduce their levels and get on track to meet the objectives.
Facing these new requirements, ship-owners and maritime stakeholders have to take measures in order to make their existing fleet compliant with the new regulations. LNG retrofit offers a solution to this challenge...