GTT Inside, the GTT newsletter
GTT Inside #28 - May, 2023

Message from Jean-Baptiste Boutillier,  Vice-President Innovation, GTT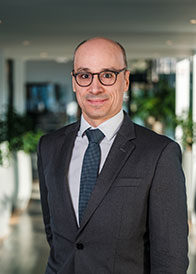 Continuous innovation is at the heart of our strategy. It is also one of our core values. Of course, we are talking about innovation in our technologies, but not only. We are also committed to driving innovation in processes, materials, construction methods, etc.
In this issue, you will discover some exciting developments such as Otowose™ our new cleaning laser for welding, and Otoseam™ our new welding robot for Invar. Both developments are aimed to further improving the quality and reliability of the welds in our systems.
These are more examples of how GTT contributes to the improvements in the quality and efficiency of tank construction.
This is amply illustrated in more details in the last article of this edition.
As always, we remain committed to providing you with the best possible service and solutions in the industry. We thank you for your continued support and look forward to collaborating with you on future projects. We hope you enjoy your reading.
OTOSEAMTM
THE HIGH SPEED SEAM WELDING MACHINE
In the GTT NO96 technology, the primary and secondary barriers are made of Invar®, a 36% nickel-steel alloy, 0.7mm thick. To achieve perfect tightness of the primary and secondary membranes, a correct welding is essential.
The raised-edges (0.7mm membrane / 0.5mm tongue / 0.7mm membrane) are welded continuously over a length of 40 meters thanks to the Resistance Seam Welding machine. On a 174 000m3 NO96 ship, this corresponds to 120km of welding at a speed of 1.6m/min, i.e. 1250 welding hours per LNGC...
OTOWOSETM
THE LASER PICKLING SOLUTION: A FAST, PRECISE AND INNOVATIVE SOLUTION
The primary barrier of the GTT Mark III Technology is made of 304L, an austenitic stainless steel alloy, 1.2mm thick. The tightness between each membrane is obtained by welding. This operation creates oxides, which must be removed to avoid corrosion.
Currently, cleaning the weld and surrounding area is a manual operation using a metallic brush. This operation is difficult and time-consuming (approximately 50km of welds per ship), the ergonomic conditions are poor (vibration, dust and posture), and the repeatability of the operation is uncertain.
With this new prototype, GTT is proposing an alternative to the shipyard...
ENSURING SAFETY, PERFORMANCE AND OPERATIONAL FLEXIBILITY OF LNGCs
GTT's cryogenic containment systems are proven to be reliable. This is explained by the resources dedicated by GTT when designing each and every LNGC cargo containment system. GTT's technical division, comprising over 300 engineers, is entirely mobilized to design each CCS in order to meet the ship owner's specifications, the shipyard's design, the class and flag requirements, and ensure compliance not only with the latest codes and standards but also with the latest state-of-the-art on the GTT's technologies.
GTT's engineering capabilities on CCS have been specifically organized to address three concerns:
safety
performance
operational flexibility