GTT Inside, the GTT newsletter
GTT Inside #24 - March 2022

Message from David Colson, Commercial VP of GTT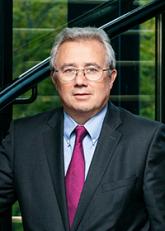 I am pleased to be able to introduce the second GTT Inside of 2022. After introducing in January our Digital solutions for vessel performance optimisation, we return in this edition to our traditional containment system business, but not just for LNG Carriers! Of course, you will be interested to learn more about our latest low boil-off (0,085% of cargo volume per day) NO96 system evolution; the Super+, which is now in production for 10 vessels. In addition, we will be introducing innovative concepts for an Ultra Large Ethane Carrier (ULEC of 150.000 m3) as well as a long-range Very Large Crude Carrier (VLCC) with a hull-integrated membrane fuel tank. We will also revisit our land storage tank design, concentrating on one of the key factors of its recent success; its low carbon footprint. All these innovations help reinforce our efforts to accompany the energy transition with technology for a sustainable world.
LNG AS FUEL
Long range LNG-fuelled Very Large Crude Carriers (VLCC) 
Currently in the doldrums, the Very Large Crude Carriers (VLCC) shipbuilding market is expected to rebound by the end of 2022. In partnership with major shipyards from China and Korea, GTT has developed several designs for long-range LNG-fuelled VLCCs. Having tackled several key technical hurdles, including design, construction and operation, those vessels offer enhanced trading flexibility and reduced OPEX, while taking full advantage of the GTT Mark III system for the fuel tank...
TECHNOLOGIES
NO96 Super+: the latest GTT's technology with increased thermal performances
GTT membrane technologies continue to evolve over the last years, based on significant feedback from operational experience, in order to meet the requirements of ship-owners and shipyards, while also complying with regulatory changes affecting the sector.
GTT has introduced several new technologies in order to minimise the evaporation of the cargo during operations. Since 2010, the guaranteed Boil-Off-Rate (BOR) achievable with GTT technologies has been significantly reduced from 0.15%V/day down to 0.07%V/day...
GST® Membrane Full integrity system environmental footprint assessment
What is the environmental footprint of an LNG onshore storage built with GST® membrane technology? How does it compare to the Full Containment 9%Ni technology, widely used in the industry?
With the current emphasis on decreasing CO2 emissions, governments and financial institutions incite developers of LNG import and export projects to find solutions to minimise the carbon footprint. As a result, more and more players in the industry inquire us about the environmental performance of our technologies, as the carbon footprint has become a key indicator in the investment decision-making process...
INNOVATION
Ethane Shipping going larger with Ethane & LNG - The Ultra Large Ethane Carrier (ULEC)
The US shale gas revolution has created a surplus of ethane production which cannot be monetized in the short and medium term in the US alone. This new supply provides opportunities for increased ethane trading between US and Europe, South America, India and most recently China.
In this context, during the past decade, the ethane shipping market has significantly increased and innovative ship designs allowing transportation of larger capacities have been developed. 2014 saw the FID of the first Ethane supply deal adopting the first membrane "large" Ethane carriers with a capacity of 87k, before further increasing in 2018 to almost 100k based on the Mark III containment system. Those vessels also include LPG and Ethylene on the cargo list...